Today, the Lucky 13s welcome Shelley Coriell, author of the fabulous WELCOME, CALLER, THIS IS CHLOE to the blog. Hurrah!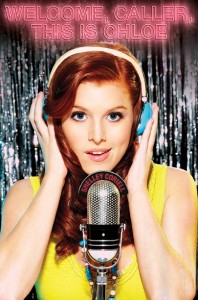 Chloe Camden has a big heart and an even bigger collection of vintage shoes. Life is good…until her best friend turns the entire school against her and her counselor axes her junior independent study project. Forced to take on a meaningful project in order to pass her Junior year, Chloe joins her school's struggling radio station, where the other students don't always appreciate her unique style. Ostracized by her former BFs and struggling with her beloved Grams's mental deterioration, lonely Chloe ends up hosting a call-in show that gets the station much-needed publicity and, in the end, trouble. She also befriends radio techie and loner Duncan Moore, a quiet soul with a romantic heart. On and off the air, Chloe tackles love, loneliness, and painful life lessons as she gives her big heart to the radio station and the misfits who call it home.
Hi Shelley, welcome to the Lucky 13s and huge congratulations on the release of WELCOME, CALLER, THIS IS CHLOE.
Chloe Camden is one of the most original and likeable characters I've ever come across - I love her obsession with vintage shoes! What was the inspiration for her and her story?
I'm absolutely fascinated with birth order, which suggests that your birth rank amongst your siblings affects your growth and personality. Many firstborns are good leaders, competitive, and task oriented. Fun factoid: the majority of U.S. presidents are firstborns or only children. Middle children are a mixed bag; they are often creative souls or peacemakers, but they can also be rebels. Picture middle born Madonna. Chloe is a classic "last born" or baby of the family (ala Jim Carrey and Rosie O'Donnell). Chloe has this big, bold personality and is great in social situations. She loves people and performing, hates conflict, and wears her heart on her sleeve. She's based on my baby brother and youngest daughter.
Chloe's story was ripped straight out of my senior year of high school when a good friend who went to another school was ostracized by her best friends. The gossip and bullying got so bad, she left her school and came to mine. The whole thing was horrible and painful to watch, but also fascinating…like a train wreck.
The book revolves around Chloe's involvement with her school's struggling radio station. What research did you have to do for this?
I visited the amazing students at FM 98.7 KWXL, a radio station broadcasting from the campus of Pueblo High in Tucson, Arizona. The advanced staffers gave me a tour of their newsroom (full of computers and a buzzing radio transmitter), control room (the heart of the station with microphones, headsets, and a huge control board with a gazillion switches and dials), and production room (where they record things like news and public service announcements...the walls are covered in gray sound-dampening foam that looks like egg cartons). I watched two students perform a live broadcast. Techie types demonstrated how to cut in sound effects and manipulate sound, including music. Um…yeah…label me impressed.
What has your journey to publication been like?
Write. Edit. Repeat. Seven times.
Mine is a classic case of BICHOK (butt in chair hands on keyboard). In 2005, I started seriously writing with the clear goal to get a New York publishing contract. After penning five dark, edgy romantic thrillers and a YA with dark undertones, I needed something with a little more light and laughter. Something fun. I wrote CHLOE but didn't submit to my agent because it was so different from what I'd written in the past. No serial killers or painful family secrets. Just a big-hearted heroine with a closet full of great old shoes.
When I learned CHLOE was a finalist in the Romance Writers of America's 2010 Golden Heart contest and received a near-perfect score in the preliminary round, I finally sent the manuscript to my agent. After subbing CHLOE to a very small, targeted group of publishers, multiple houses chimed in with interest. When I heard the editor from Amulet, Maggie Lehrman, was a member of her high school's radio station, I knew I'd found the perfect home for CHLOE.
What is a typical writing day like for you?
I don't do typical too well, but I have one constant in my writing life. Before I sit down to write, I play with my dog, Rylee. She's a rescue Weimaraner, and while I don't know her history, I figure she must have had some sort of serious abandonment issues. If I don't cuddle with her before I write, she tries to crawl into my lap. All 60 pounds of her.
What are you working on next?
I submitted the partial on my option book to Dear Editor, another funny teen girl contemp, this one called GOODBYE, REBEL BLUE. Rebel – short for Rebecca – is the anti-Chloe. She's a snarky, artistic outcast who reluctantly completes the bucket list of a do-gooder dead classmate and while en route meets up with a hot guy with dimples and a gimpy dolphin. Next up: revisions on my BIG book. It's about Venice and dark arts and star-crossed lovers.
And finally, because we're the Lucky 13s, we love to hear about other writers' superstitions and good luck charms. Do you have any, and if so, what are they?
None.
Young adult author Shelley Coriell writes stories about teens on the edge of love, life-changing moments, and a little bit of crazy. Her debut novel, Welcome, Caller, This is Chloe, releases May 1, 2012 from Amulet Books/Abrams. A six-time Romance Writers of America Golden Heart finalist, Shelley lives in Arizona with her family and the world's neediest rescue Weimaraner. When she's not writing, she bakes high-calorie, high-fat desserts and gives speeches about the joys and business of writing. You can find her online at www.shelleycoriell.com, on Twitter
and on
Facebook.